365MC Hospital
LAMS liposuction by Injectables
LAMS Liposuction Injection
---
See the dramatic changes through LAMS
LAMS liposuction by Injectables
* LAMS is available for those who don't have a residence visa in Korea and National Health Insurance.
---
Arms

Back

Hips

Love Handle

Abdomen

Thighs

Calves
LAMS liposuction by Injectables
* LAMS is available for those who don't have a residence visa in Korea and National Health Insurance.
---
Arms

Back

Hips

Love Handle

Abdomen

Thighs

Calves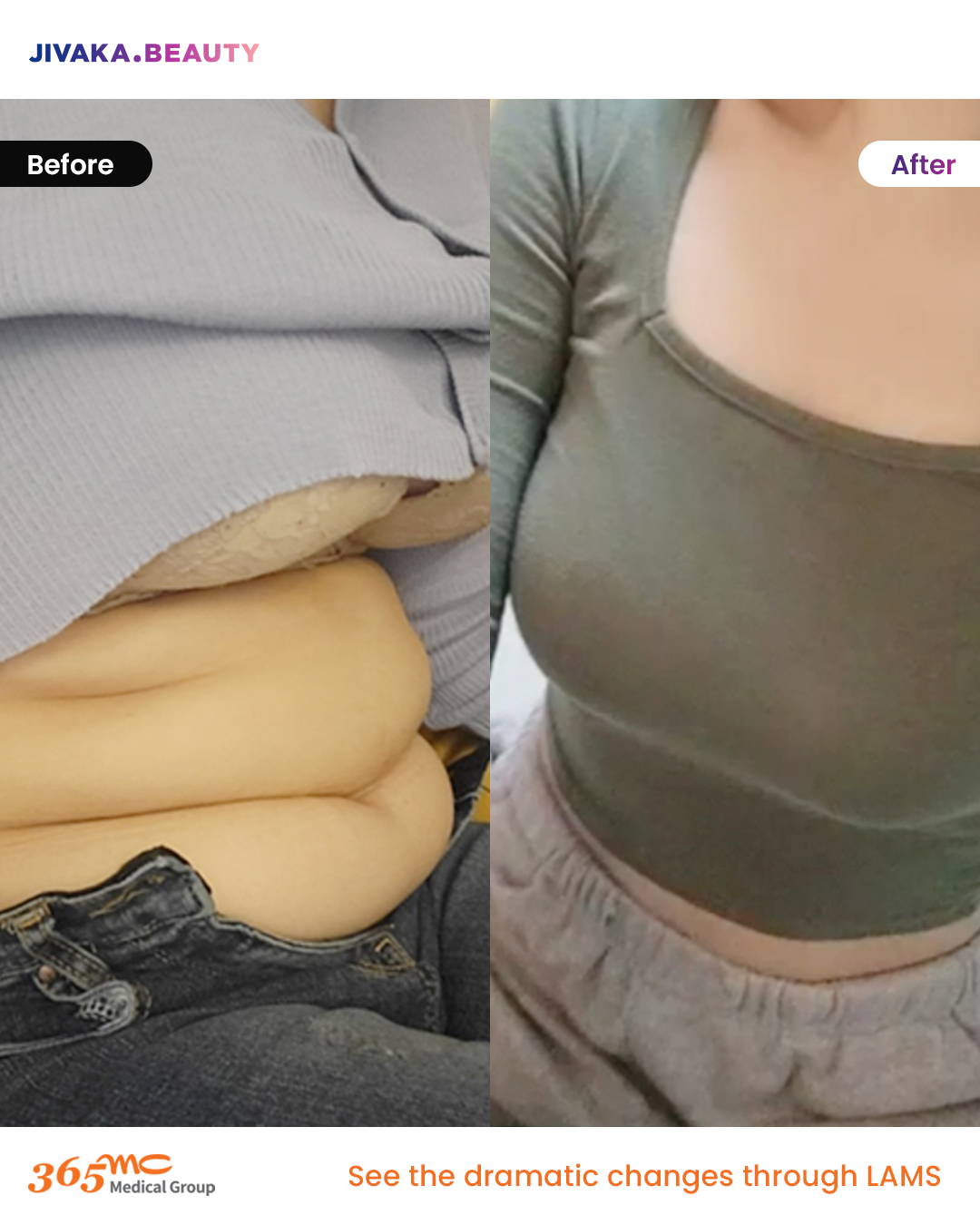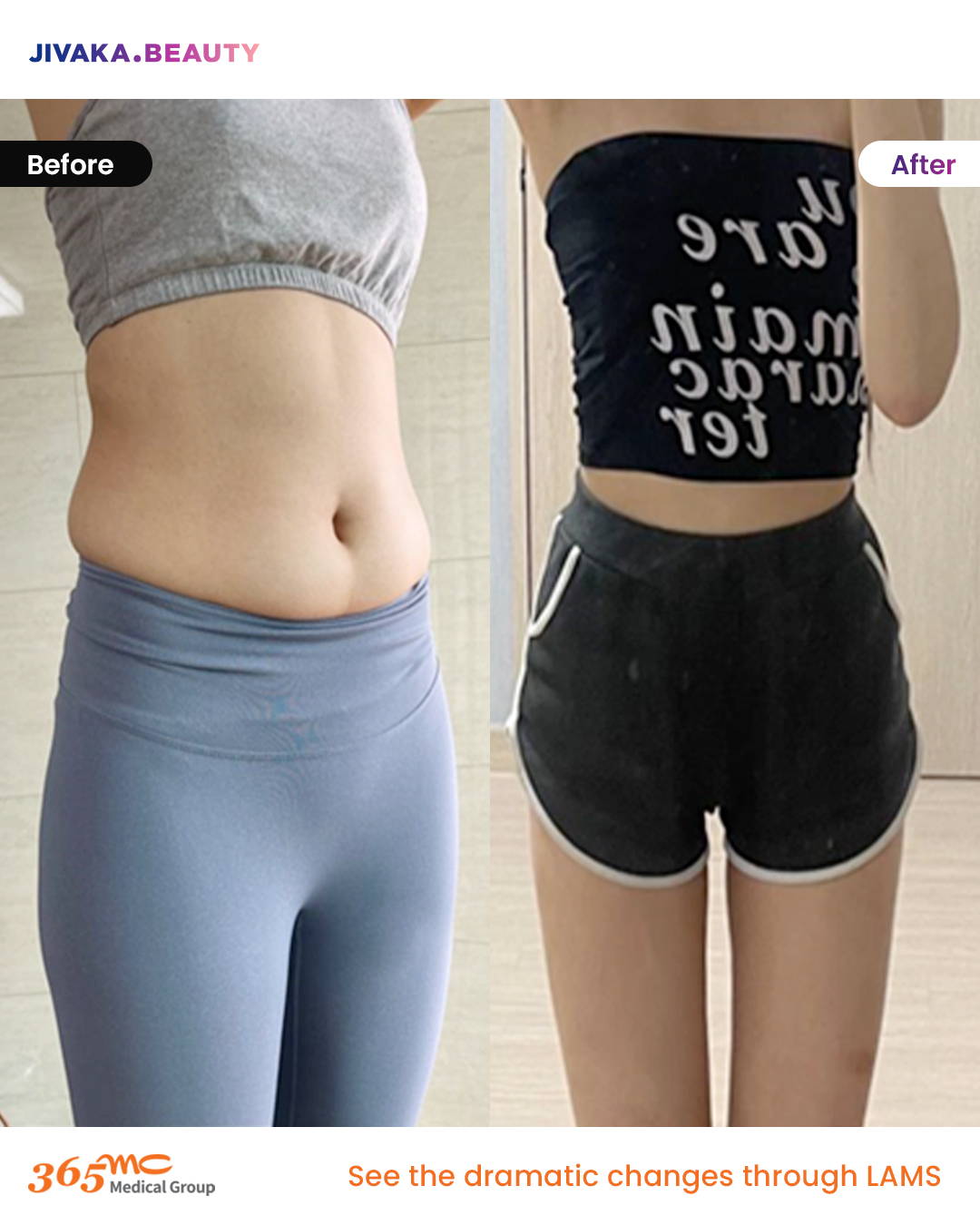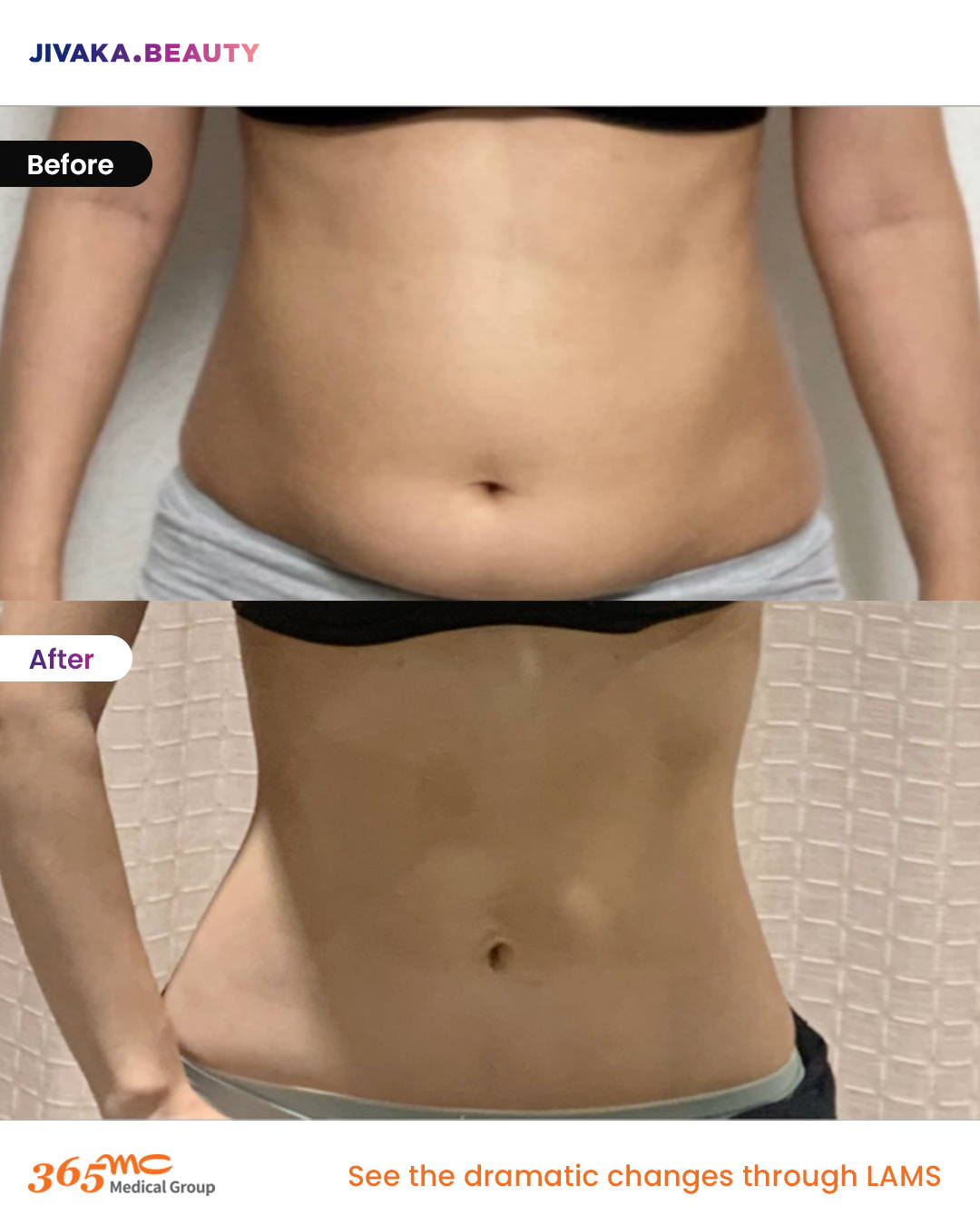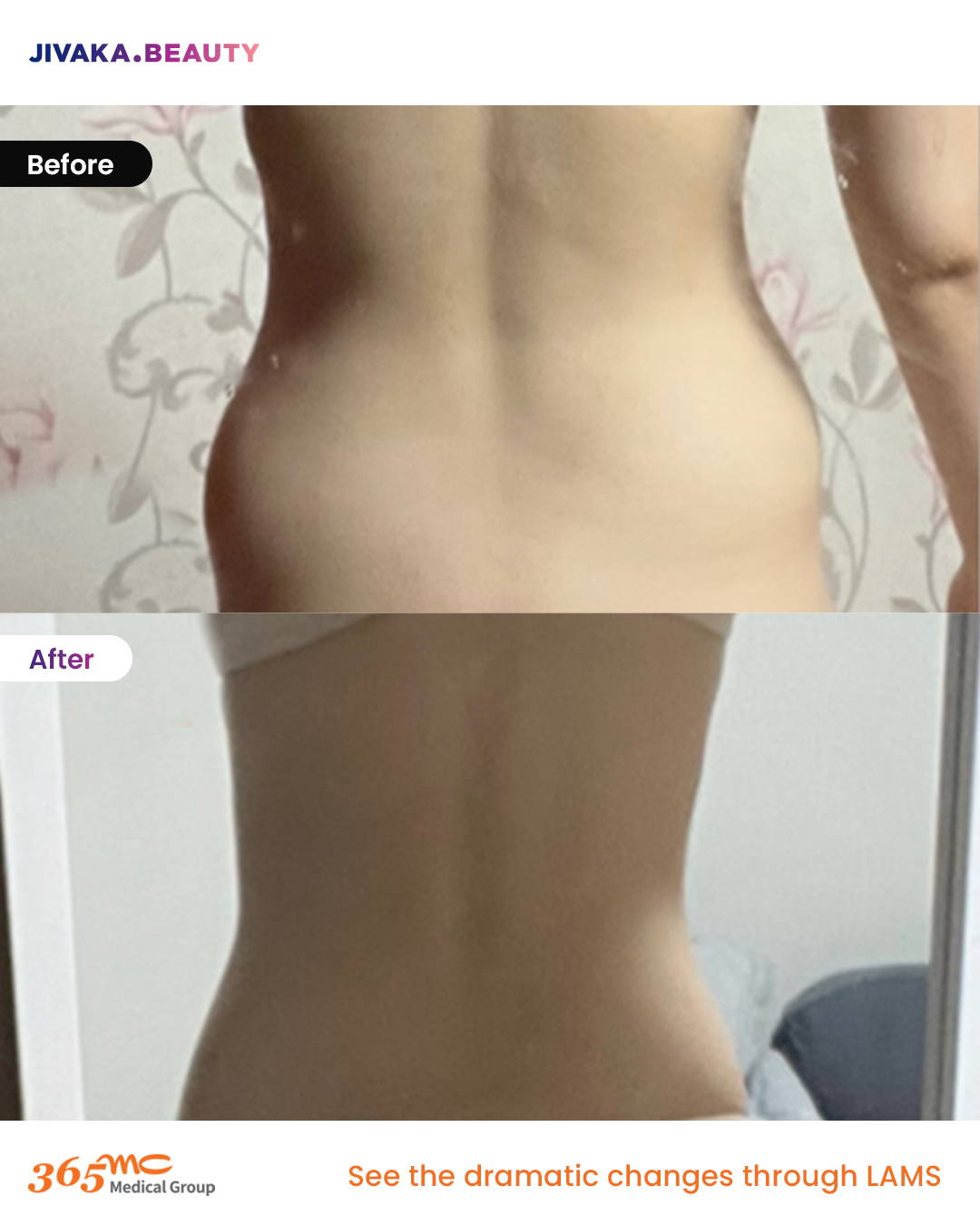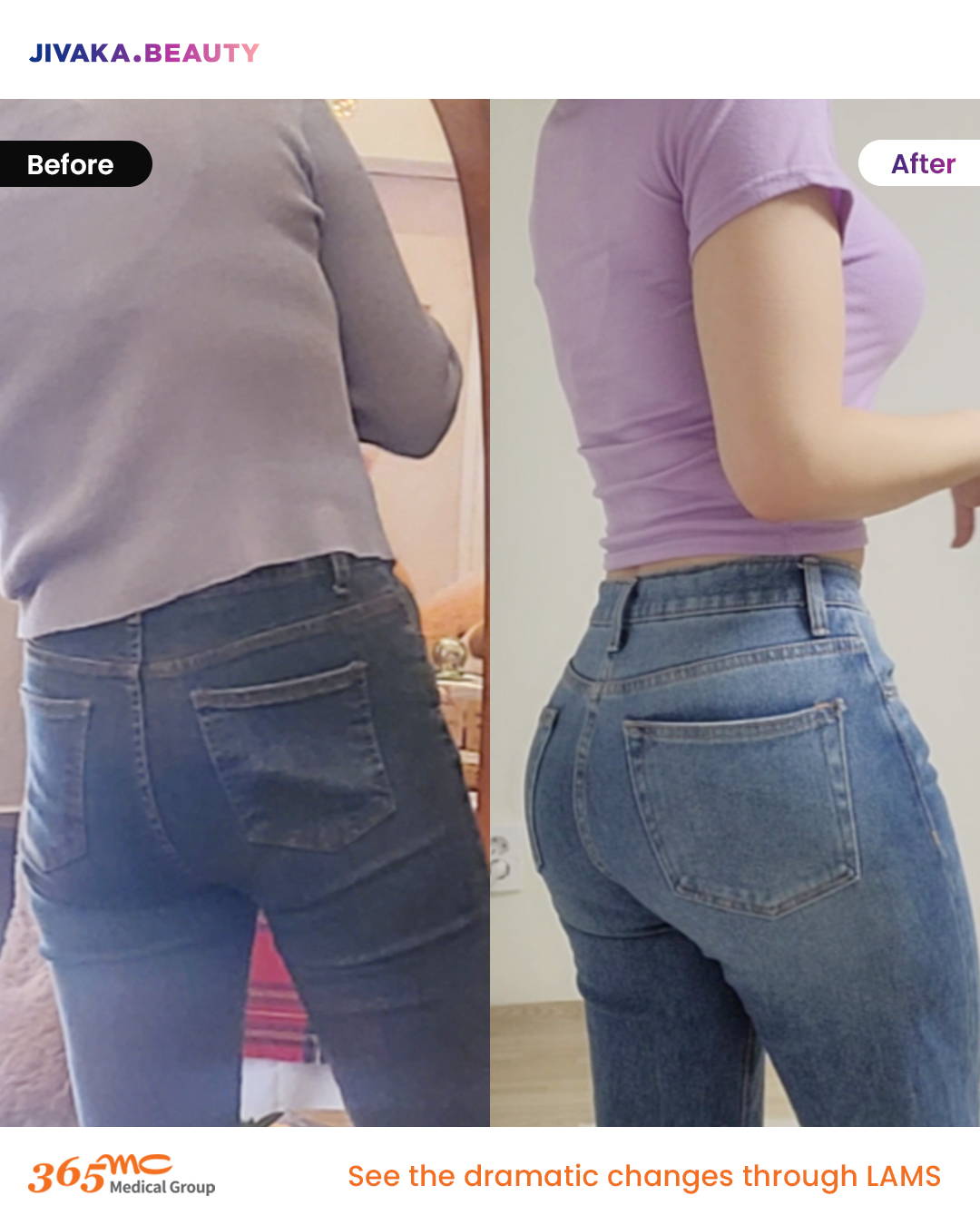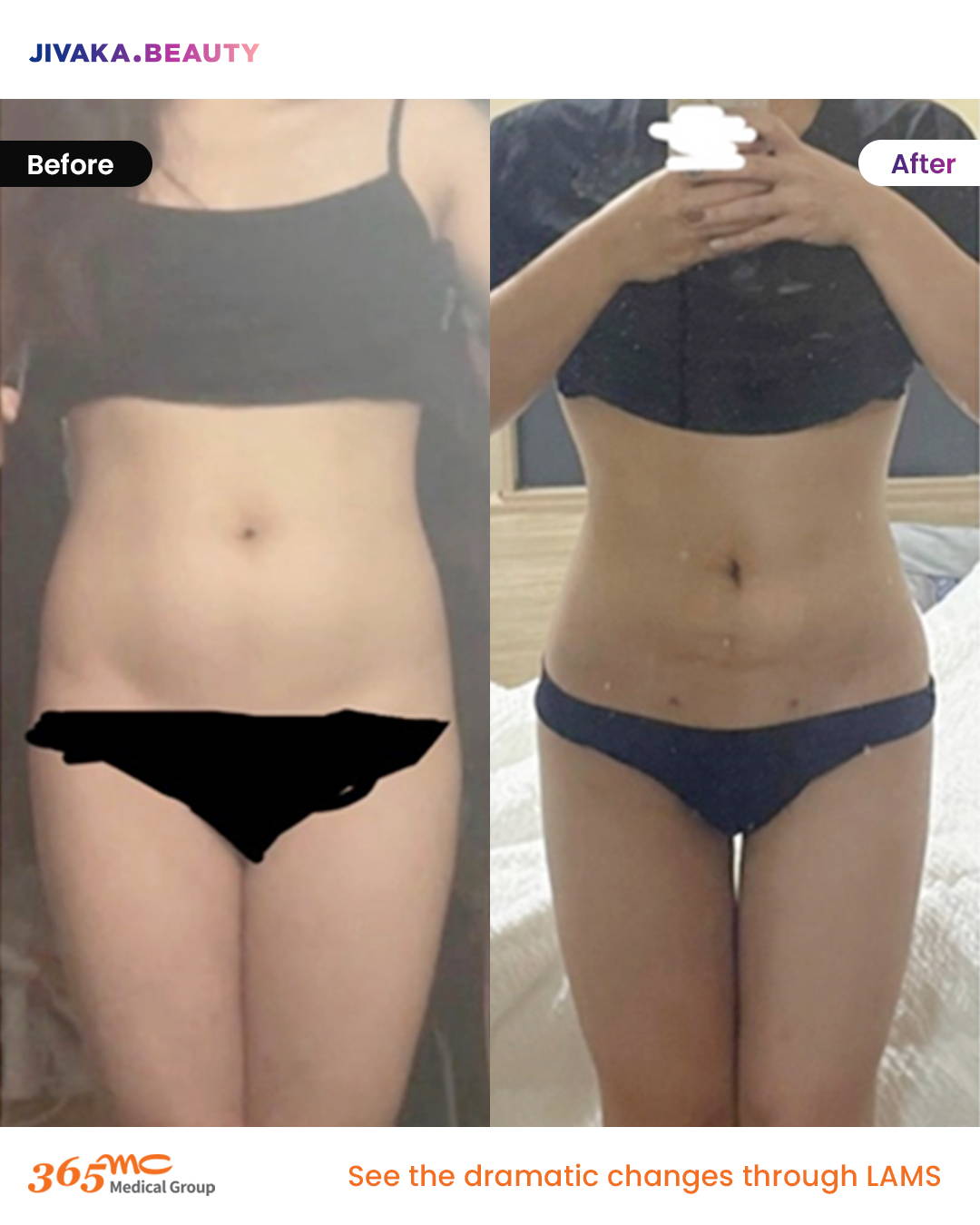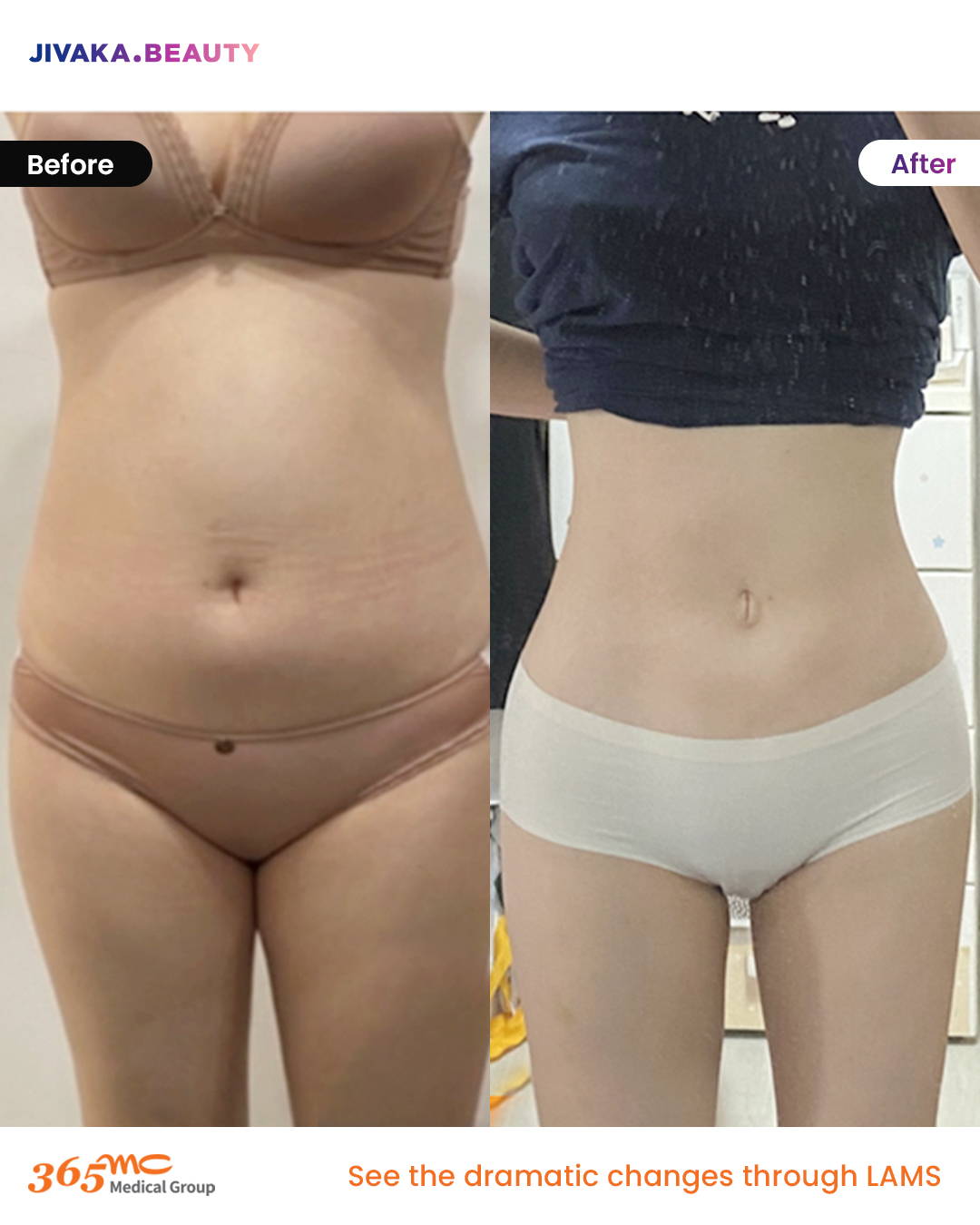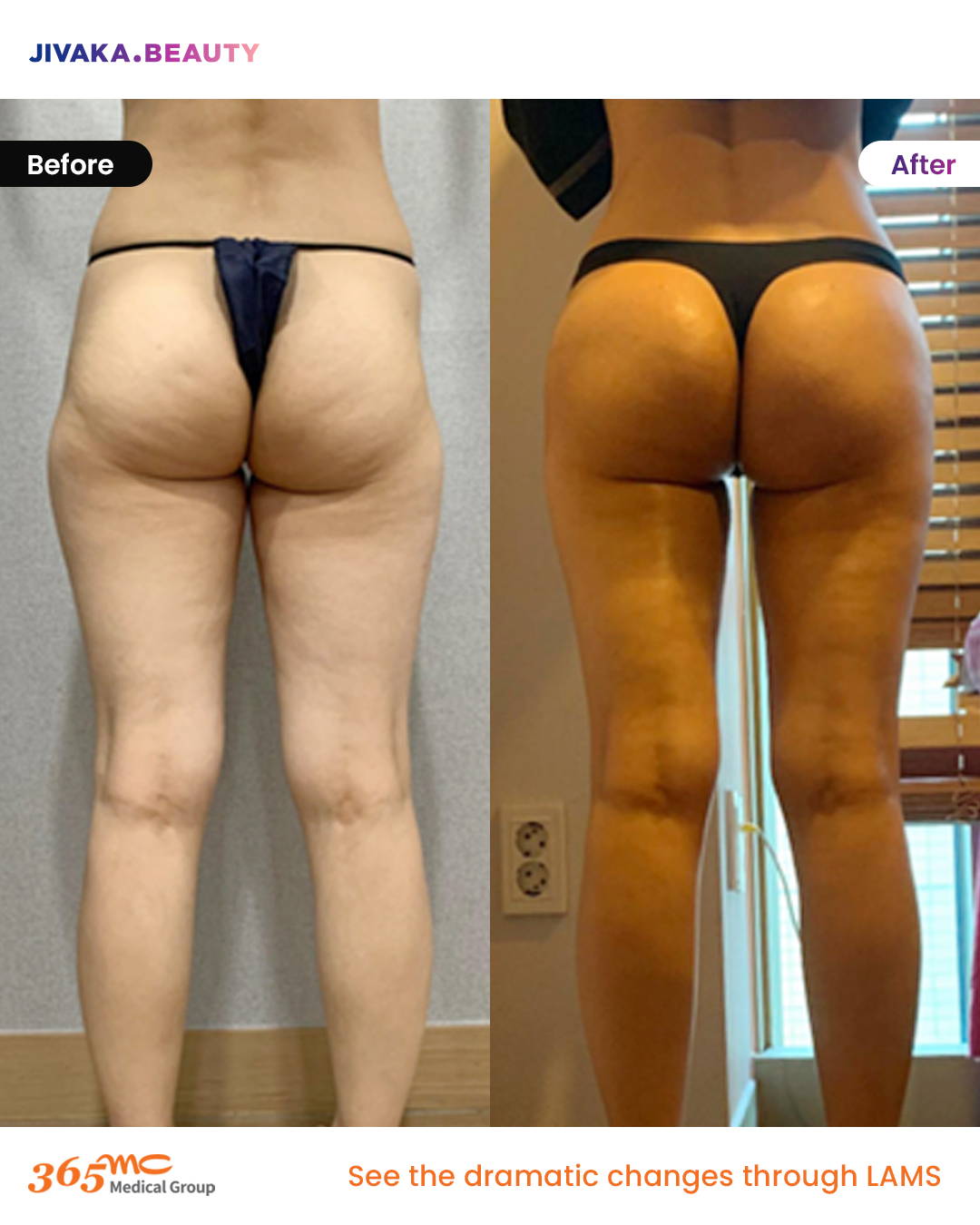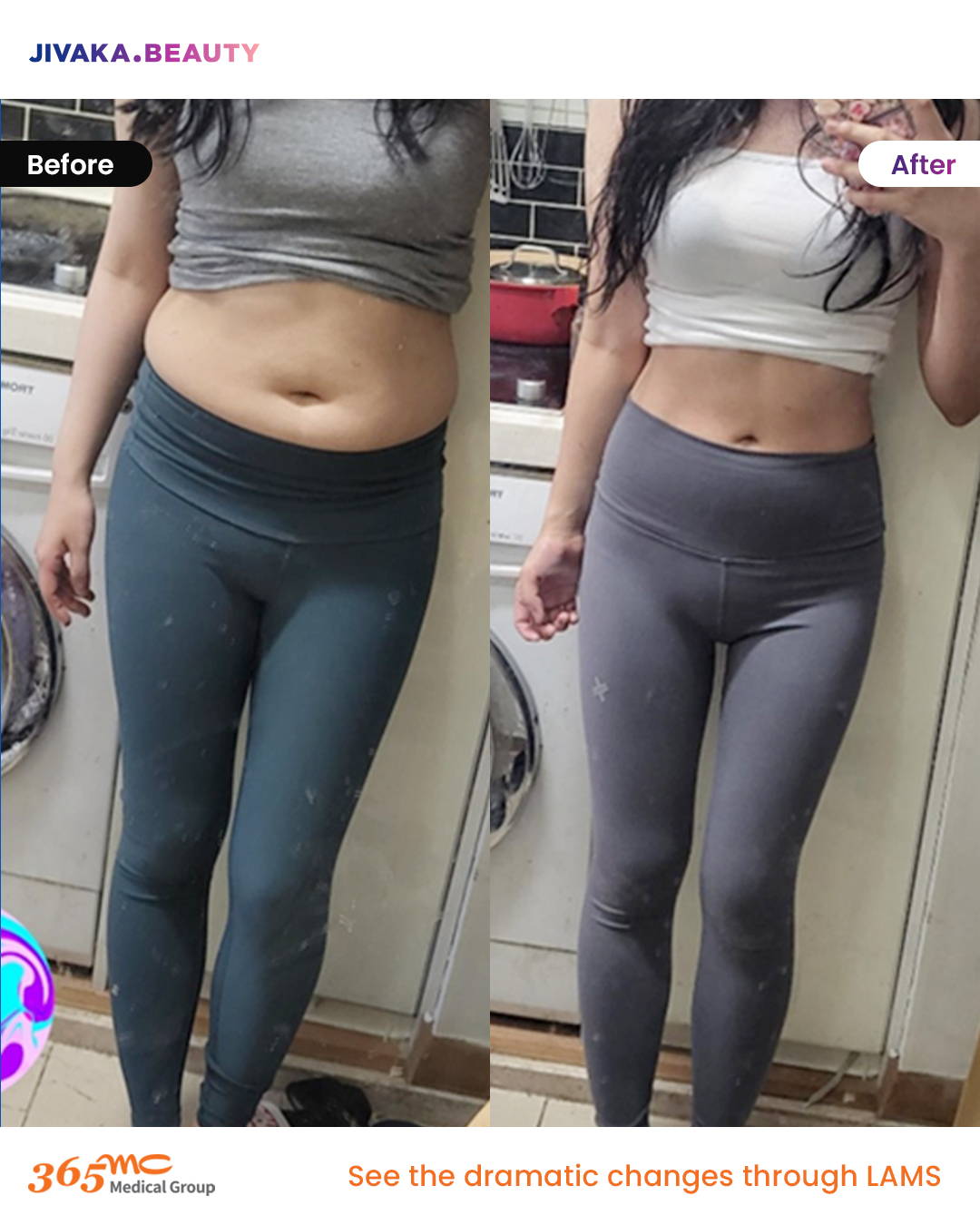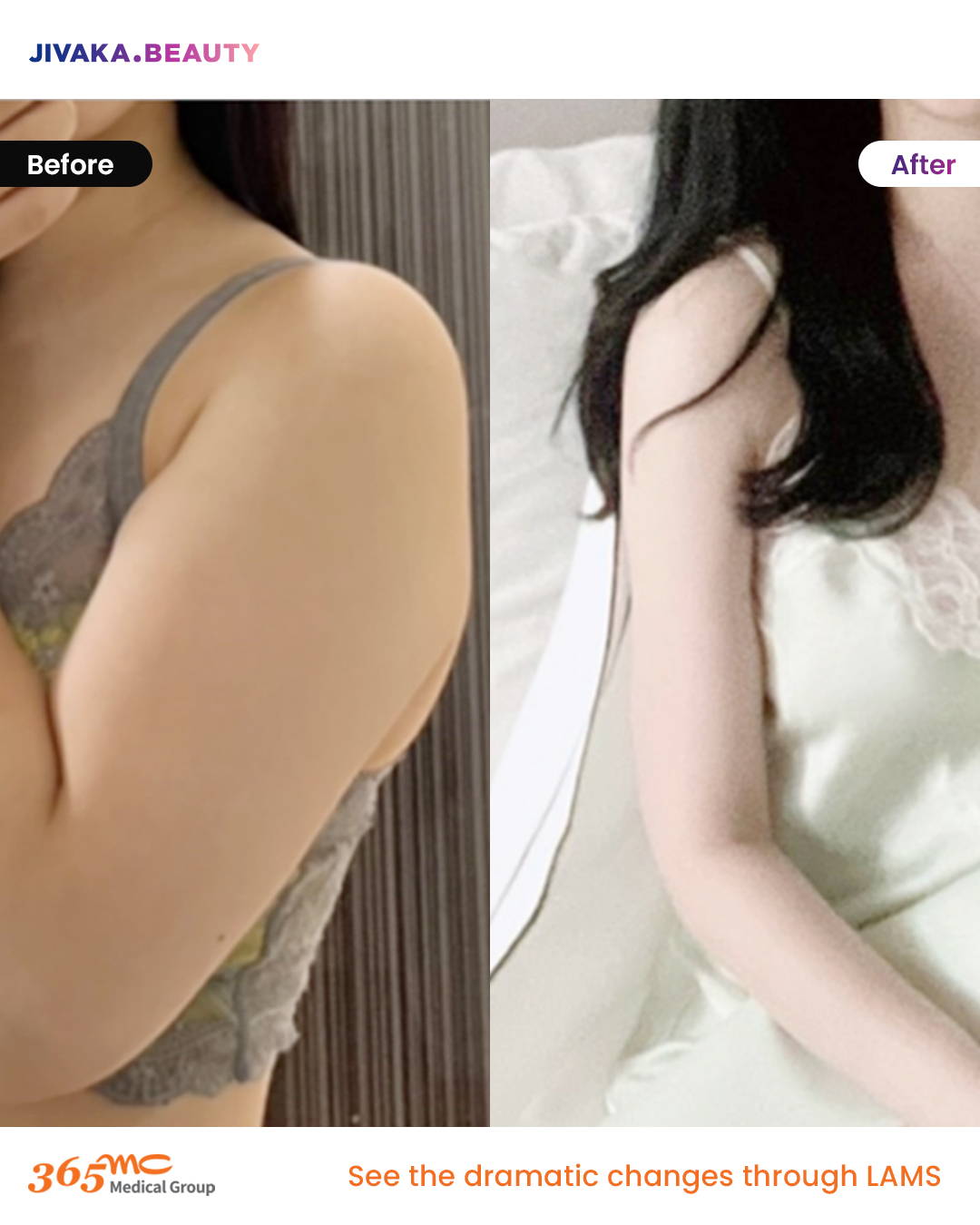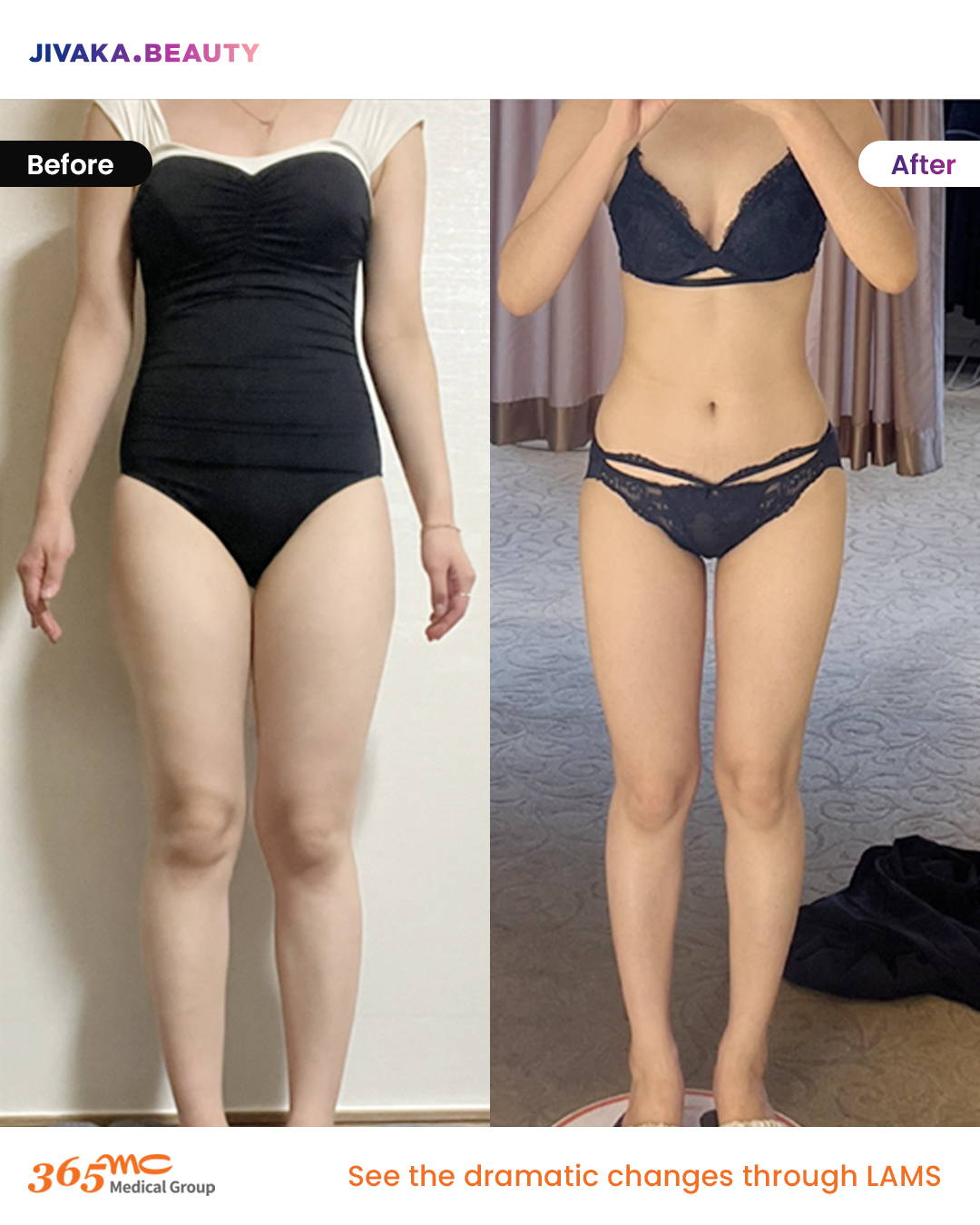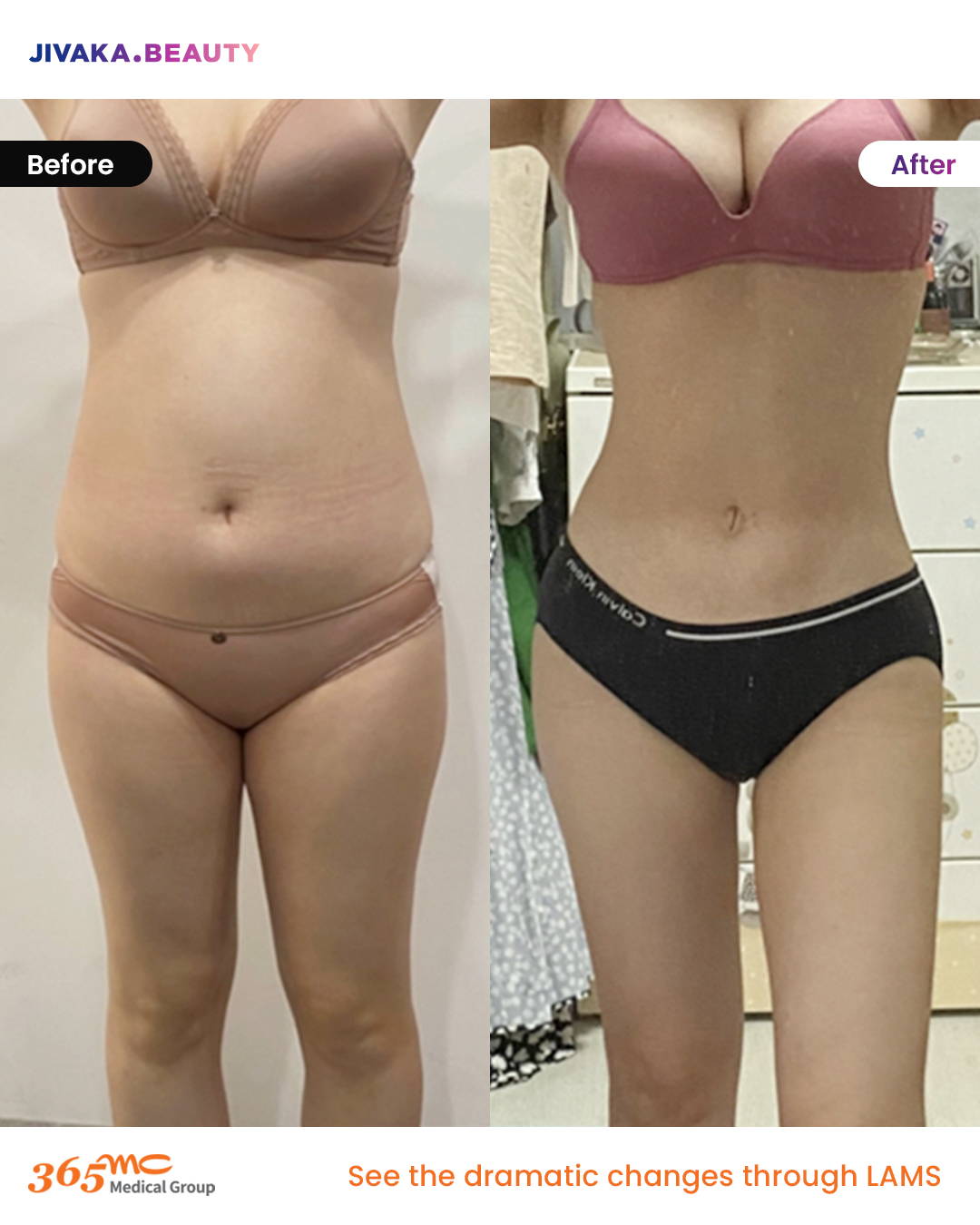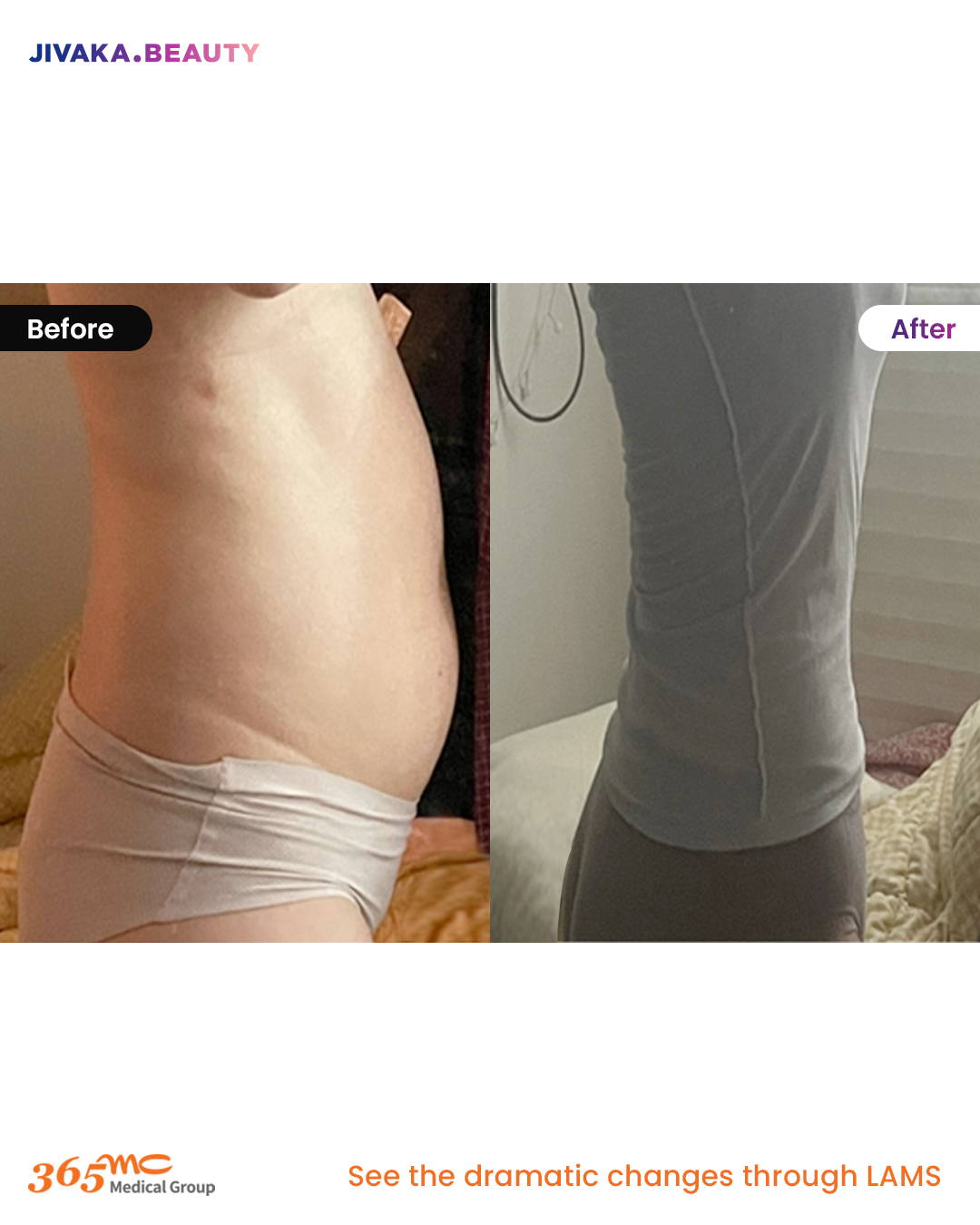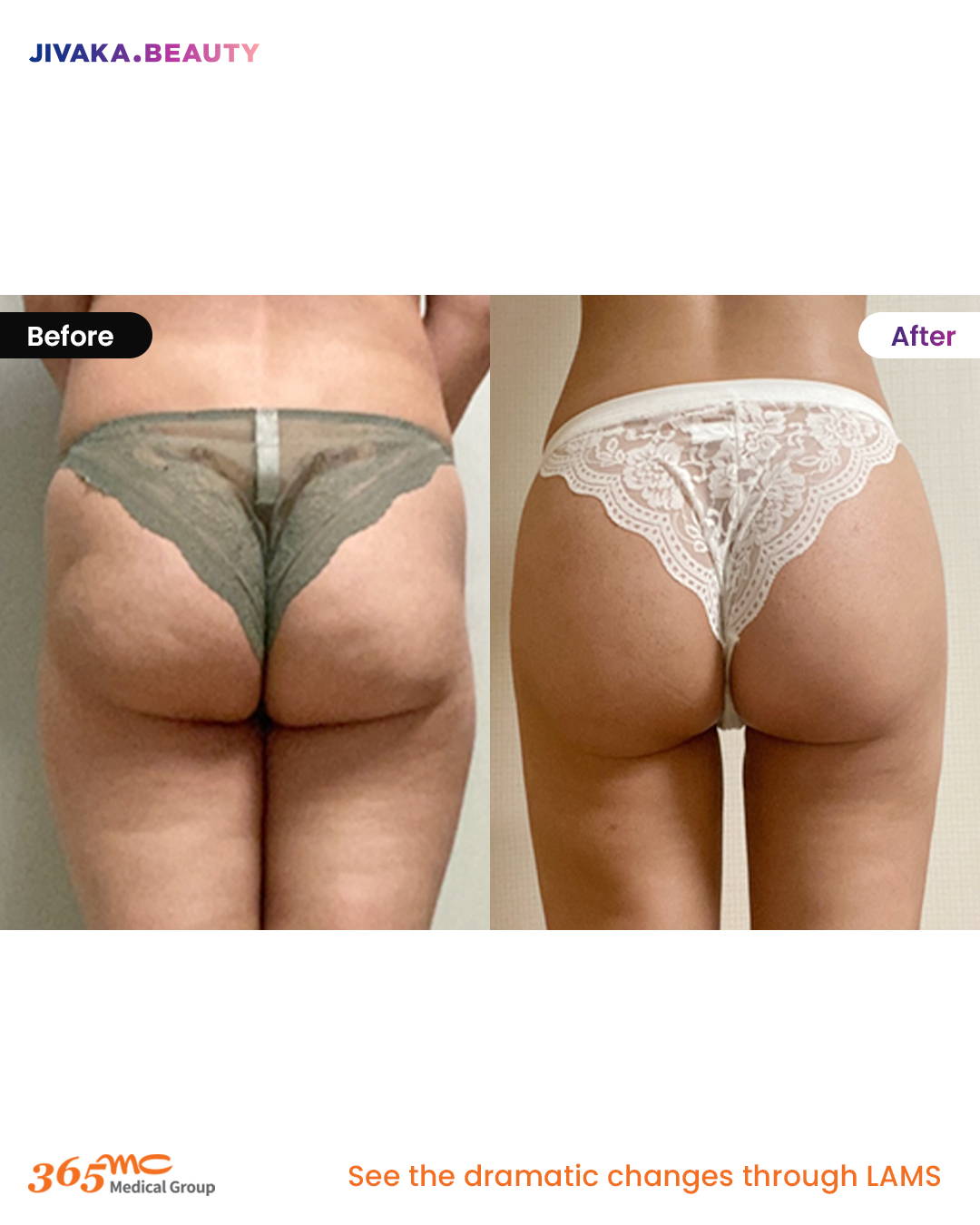 LAMS Liposuction Injection
If you are afraid of surgical liposuction, try LAMS Liposuction Injection. Without incision and sedation, fat cells can be removed within 10 minutes.
You may have bruises for 1~2 weeks (*Bruises on thighs may last longer)
Available on the day of procedure
---
---
---
You may have bruises for 1~2 weeks
(*Bruises on thighs may last longer)
---
Available on the day of procedure
1. Peripheral dissolution
Special fat decomposition solution is added to dissolve the fat layer.
Creating a tunnel for fat discharge.
Extracting fat with liposuction syringe.
4. Dissolved fat discharge
Discharging additional dissolved fat through follow-up treatments.
WITHOUT Sedation, Incision, Compression Garment
1. Direct extraction of fat cells.
2. Direct breakdown of cellulite.
3. Helping discharge fat from the surrounding area.
What makes 365MC's LAMS Special
The world's largest case of liposuction (more than 20,000 cases per year).

Specialized medications and liposuction syringes produced by the clinic.

Operating the world's first cooperative R&D team for artificial intelligence liposuction.

Revealing the number of bottles transparently.

A systematic post-care system for LAMS customers.
---
- Make sure to eat before the procedure.
- Wear dark, bulky clothes with long sleeves/pants. (no shorts)
- Use public transportation or taxi. (Do not drive)
- Stay hydrated.
---
- Injected solution may leak out.
- Make sure to take the prescribed antibiotics.
- Shower: 24 hours after
* Sauna and bathing: 3 weeks after the procedure
- You may feel palpitations, hand tremors, and dizziness but will be disappeared within 6 to 8 hours.
- Pain, bruise, clumps naturally disappear within 2 weeks.
* individual differences
- Light exercise is possible on the day of the procedure, and from the next day, you can exercise without restrictions.
- Avoid massage for a week.
When you can't lose weight no matter what, but liposuction is too scary to try!
Try LAMS! easy to get into shape with just one procedure.
Reserve a special treatment with 365mc, the leader of the LAMS trend in Korea!
Q. What area is LAMS Infinite for?
A. Just like any liposuction, Infinite LAMS is applicable to the thighs, stomach, forearms, and other body parts. The bra line or armpit area, however, is an exception. For the legs, treatment availability is determined after consultation.
Q. What is the treatment process for Infinite LAMS?
A.
Consultation – Measure body fat, and conduct a blood test.
Treatment – Treatment is conducted after coming up with a delicate design for each problem area.
Post-treatment – Thoroughly managed with a systematic after-care program
Q. What is the after-care program?
A. The after-care program maximizes the effects of Infinite LAMS by assisting in the discharge of dissolved fat and reducing post-treatment bruising and swelling. The program starts right after the treatment. It is recommended to receive it for 5-7 days after the treatment.
Q. How many bottles will be needed?
A. The number of bottles of LAMS depends on the individual's body condition (weight/fat). When a large number of bottles are required, it is recommended to select 'Infinite LAMS', which can remove fat without bottle limitation.
Q. Is LAMS better than the traditional liposuction?
A. There are several comparative advantages. For example, LAMS uses a thinner needle compared to a liposuction cannula. Thin needles result in less bruising, swelling, and damage to tissue. The recovery period is also relatively quick, and no compression garments are required. However, to remove a large amount of fat, liposuction may be recommended.
Q. Can I have LAMS on several areas on the same day?
A. If there are too many desired treatment areas, sessions can be separated to minimize side effects that may occur.
Q. Can I still breastfeed after LAMS?
A. You CANNOT breastfeed after LAMS. The solution injected to your body during the procedure could remain in your body for at least a year. Please pause breastfeeding accordingly.
Q. Can I have LAMS in armpit areas?
A. It is not recommended as the axilla area is relatively more sensitive than other areas and the procedure may be very painful.
Q. What kind of cannula or needle is used?
A. Instead of a traditional cannula, fat will be extracted using syringes. The needle will penetrate your skin just until the fat layer for its extraction.
Q. How long is the procedure?
A. It takes approximately 20 to 30 minutes. There may be a time difference depending on the amount of extraction.
Q. Is it going to be painful?
A. With local anesthesia, you won't feel any pain during the procedure. There may be differences in the pain you feel after the procedure depending on the individual.
Q. Can I go back to my daily routine?
A. Yes, you can. Since LAMS does not require sedation or incision, recovery is faster than traditional liposuction. There may be bruising or swelling, but it does not have a significant effect on daily life.
Q. Is it required to go back to the clinic for follow-up and to discharge the remaining fat?
A. A one-day visit is enough usually.
Q. Precautions before and after LAMS?
A.
1. Even if the treatment is not under sedation, it is not recommended to drive on the day of the procedure. Please use public transportation or a taxi.

2. The injected solutions may leak after the procedure and stain the bandage red. If the bandage gets soaked, please remove it to avoid contamination and subsequent bacterial infection.

3. It's important to take good care of your wound to lower the risk of infection and heal it in the best way possible. Please do not remove the strapped bandage on the wound unless it's wet or damaged. Keep in mind that a week after the LAMS procedure, Duoderm, a dermal patch should be used to prevent scars. Change it every two days for two weeks.

4. It is okay to take a shower 24 hours after LAMS. Sauna or bathing is not recommended until the wounds scab.

5. The prescribed antibiotics are essential to help the wound to heal and prevent inflammation. Please take them for three days after meals.

6. If you react to certain medications, you may experience some dizziness and headache after the procedure.

Q. Where can I have LAMS?
A. LAMS can be done at two clinics in Seoul. Gyodae (line 2&3) and Gangnam (line 3).
Q. Does the Korean national insurance cover LAMS?
A. Unfortunately, it does NOT cover by national insurance. Please contact Jivaka Beauty if you have Korean national insurance.
Q. What are the side effects?
A.
1. Common side effects in the LAMS solutions could cause fast heartbeat, lightheadedness, and hand tremors. However, all of these symptoms will disappear within 6 to 8 hours. Drinking mineral water will speed up recovery.

2. Bruising and swelling. Although LAMS is considered to be a simple procedure, the needle is inserted down to the fat layer below the skin. You may experience side effects such as destruction of nerves or blood vessels during the procedure. Our medical staff have many years of experience to perform the procedure, so the probability of these side effects occurring is remarkably low.

Q. Is lidocaine used during LAMS?
A. Yes, lidocaine is used for LAMS and it cannot be replaced.

Q. What can be done to reduce possible side effects?
A. Avoid smoking and drinking for a month. Avoid sweating in a sauna or excessive exercise until 2 weeks after the procedure. Instead, take a light walk to increase your metabolism and maintain your weight right after the procedure. This can prevent you from gaining weight again.

126, Seochojungang-ro, Seocho-gu, Seoul, Republic of Korea
* 3 mins walk from Seoul Nat'l Univ. of Education Station Exit 12
---
Weekday | 11:00 AM ~ 08:00 PM
WED | 11:00 AM ~ 07:00 PM
SAT | 11:00 AM ~ 04:00 PM
SUN, Holidays | Closed
126, Seochojungang-ro, Seocho-gu, Seoul, Republic of Korea
* 3 mins walk from Seoul Nat'l Univ. of Education Station Exit 12
---
Weekday | 11:00 AM ~ 08:00 PM
WED | 11:00 AM ~ 07:00 PM
SAT | 11:00 AM ~ 04:00 PM
SUN, Holidays | Closed