We are happy to introduce a new lifting treatment package with AirJet Lifting. This package is available at Bioface location exclusively.
AirJet Lifting can be combined with either Ulthera or Thermage FLX, newest version of long-loved Thermage.
1. AirJet 200 shots + Ulthera 200 shots = 900,000 KRW
2. AirJet 200 shots + Thermage FLX 300 shots = 1,200,000 KRW
*Promotion order is available until October 31st, 2019, and visit date needs to be before January 31st, 2020.
Here are more information about AirJet lifting, a new treatment from Jivaka Beauty. Ulthera and Thermage can be found in individual product pages in other sections. Please don't hesitate to ask questions via 1:1 consultation, our expert care team will respond within 24hrs for personalized advice for your treatment needs.
AirJet Lifting is a needleless lifting and skin rejuvenating procedure developed in Korea that works in two steps:
Jet Bullet Effect




High pressure "jet bullet" shots into the dermal layer (4~5mm depth) to multi-dimensionally pierce fibrous tissues that cause unevenness in skin texture.





Collagen Growth Solution




A liquid solution of Hyaluronic and Collagen growth stimulants is what's shot into the skin, hydrating and firming the dermal layer.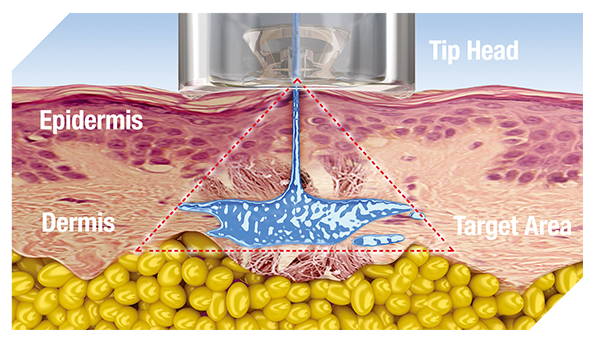 Smoothen and firms the skin, great for lifting, wrinkles, and acne scar
Effects shown immediately
Recommended Session Count
6~12 months from 3 sessions
Slight swelling, embossing effect, scabs (band-aid applied for 3~5 days)
Airjet can be used for:
For lifting skin

For treating light wrinkles

For treating acne scar
Think of Airjet tech as an alternative to needles. By itself, it doesn't have dramatic effects but it's a great treatment to add to other treatments for immediate effects. Also if time allows, we recommend you get 2~3 sessions for maximum effects!